Éric Normand est improvisateur, bassiste, compositeur, chanteur et parolier, concepteur d'instruments et producteur de disques et de concerts. Il se définit comme un artiste épidisciplinaire, électron libre animé par l'esprit de la rencontre, par la défense de la liberté et de l'esprit de co-création.
Il vit en région éloignée, à Rimouski (Québec), et est directeur artistique de Tour de Bras, un organisme voué aux musiques d'improvisation. Il y dirige aussi, depuis dix ans, le Grand groupe régional d'improvisation libérée (GGRIL).
Improvisateur, Éric invente un langage personnel et radical. Équipant sa basse d'un attirail électronique se sa fabrication, il se force à réinventer la gestuelle instrumentale. Il devient un dompteur d'électricité qui, par des gestes précis et légers, cultive un bruistme de chambre raffiné, mais toujours au bord du ravin. Il privilégie les duos et trios avec Xavier Charles, Philippe Lauzier, Jim Denley, Pierre-Yves Martel, Martin Tétreault, en plus de nombreuses rencontres impromptues.
Compositeur, il crée des musiques d'ensembles usant de diverses syntaxes et puisant tantôt dans le folk tantôt dans la musique de chambre, tantôt dans la poésie ou la danses.
Sa musique à été jouée dans plusieurs festivals au Canada, en Australie, et en Europe (France, Suisse, Espagne, Autriche, Italie), en plus d'être entendue sur les ondes de Radio-Canada, Australian broadcasting corporation, CBC, Radio Grenouille et plusieurs radios étudiantes.
«… one of Canada's most creative musical visions.— Stuart Brommer, The Wholenote (Canada)

«… a highly disciplined approach to noise making.» — Dan Bigna, Real Art (Australie)
En 2019, il reçoit le Prix du CALQ — Créateur de l'année au Bas-Saint-Laurent.
[ii-17]
Éric Normand
Québec, 1977
Résidence: Rimouski (Québec)
Compositeur
Interprète (basse, batterie, voix, électronique)
Improvisateur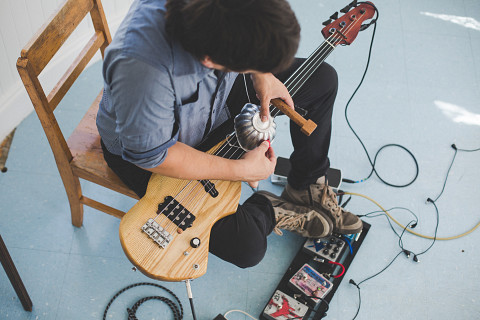 Éric Normand
[Photo
:
Marie-Êve Campbell (atelier camion), août 2016]
Articles écrits
Réussite éminente, d'une grande beauté…

Eric Normand, JazzoSphère, no 23, 1 octobre 2004

Ces musiciens sont excellents, étonnamment dans l'aspect le plus associé à la maturité

:

l'arrangement et la texture.

Eric Normand, JazzoSphère, no 23, 1 octobre 2004

Entre les pièces de textures et de râlements et les chansons, s'insinue une musique instrumentale riche en trouvailles, en spontanéité.

Eric Normand, JazzoSphère, no 23, 1 octobre 2004

Sur une balançoire est une suite rêvée qui ne touche pas le sol et qui va librement dans l'air. Un coup de cœur.
Autres textes
Mouton Noir
Blogue
La 10e édition des Rencontres de musiques spontanées aura lieu du 25 au 29 mai 2010 à Rimouski (Québec). Notamment au programme du 25 mai 2010: Pierre-Yves Martel, Éric Normand, Jim Denley, Philippe Lauzier et Kim Myhr.…

Dans le cadre de sa saison 2009-10, Productions SuperMusique présente a<varia>ctions, une carte blanche à Hélène Prévost. Les concerts auront lieu à Montréal les 12 et 13 mai 2010 à La Chaufferie, en compagnie de Steve Bates, Nicola…

Le bassiste et concepteur d'instruments Éric Normand donnera une série de 5 concerts au Canada en avril 2010. On pourra l'entendre le 2 avril à L'envers, à Montréal, le 4 avril à Vancouver, le 5 avril à Calgary, le 6 avril à Toronto et…