ADISQ 2015 — Nomination
Juno 2015 — Nomination
Prix Opus 2014-15: Disque de l'année — Jazz — Finaliste
Une fois de plus, Marianne Trudel a su réunir les meilleurs ingrédients afin de livrer une musique qui touchera autant les connaisseurs que les néophytes; un groupe exceptionnel qui s'allie l'extraordinaire trompettiste Ingrid Jensen de New York. Plongez dans l'aventure… La vie commence ici!
«Dans chaque feuille, chaque vague, chaque pierre
Chaque geste, chaque regard
Un sourire, un baiser, une larme
Oh! Un héron! T'as vu?
La vie. Ici. Là. À chaque seconde.
Immense et fragile.
Respect.»
JTR 8588 / 2014
UPC/EAN 068944858828
Durée totale

:

51:14
Hors catalogue
Cet article n'est pas disponible via notre site web. Nous l'avons catalogué à titre informatif seulement. Vous trouverez peut-être de l'information supplémentaire à propos de cet article sur le site de Justin Time Records.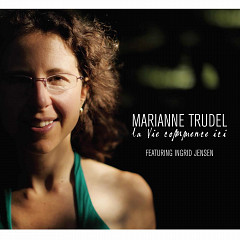 La vie commence ici
La presse en parle
Trudel

wrote all the tunes, many of which carry an emotional intensity. A fine record from the Canadian pianist and her band. Three Cheers.

Stuart Broomer, The WholeNote, no 20:5, 1 février 2015

… le matériau de Trudel peut suggérer Mozart ou même Ravel, […] développant une profondeur méditative qui communique un grand respect de la vie.

Christophe Rodriguez, Sorties Jazz Nights, 29 janvier 2015

Pianiste aux idées et dynamo d'un jazz montréalais,

Marianne Trudel

célèbre sa nomination pour les

Junos

dans la catégorie jazz. Dans

La vie commence ici

où elle fait tandem avec la trompettiste

Ingrid Jensen

, tout est en place pour un GRAND disque qui juxtapose des couleurs.

Se développant résolument avec une inspiration hymnique, "Soon" frappe comme une mission qu'on déclare, comme une carte de visite musicale.

Voici une compositrice

, annonce-t-elle,

avec un son reconnaissable et bien à elle

. […] La perfection absolue de l'ordre des pistes sous-tend à travers le disque une narrativité tangible, bien que non-verbale. À la lumière d'une unité si accomplie, considérons cet

album dans sa totalité

comme une carte de visite — un signe de la brillante présence de

Marianne Trudel

, et de son avenir prometteur.

Mathieu Charlebois, L'actualité, 1 décembre 2014

La pianiste

Marianne Trudel

propose toujours un jazz de grande qualité, et cet album mettant en vedette la trompettiste

Ingrid Jensen

n'y fait pas exception. Les solos sont aussi inspirés que les compositions, et la délicatesse des arrangements n'a d'égal que le doigté de la pianiste.

Gilles Boisclair, SOCAN, Paroles & Musique, 1 décembre 2014

Marianne Trudel

construit pas à pas une œuvre de plus en plus mature et sensible.

Une excellente nouvelle parution de la pianiste

Marianne Trudel

.

La vie commence ici

s'avère très unifié. Il y a un certain calme à cette musique, même quand les choses s'enflamment un peu. Les conditions y sont idéales pour que les solistes expriment leurs pensées. La plupart du temps, leurs solos sont construits à partir de la vision du groupe plutôt que d'être centrés sur les perspectives individuelles des solistes, ce qui rend l'album parfaitement achevé. C'est un de ces albums très significatifs, mais qui garde néanmoins les choses simples et cohérentes.

Christophe Rodriguez, Le Journal de Montréal, 3 novembre 2014

Fine écriture, 10 plages toutes personnelles, une invitation au voyage.

Ingrid Jensen

est impériale.

Un enregistrement formidablement significatif de la pianiste Trudel, qui ne semble rien faire de bien compliqué, mais dont néanmoins chaque pièce est si engageante qu'il en devient pratiquement impossible de faire quoi que ce soit d'autre que de s'assoir et d'écouter.

Yves Bergeras,

Le Droit

, 25 octobre 2014

Berçant, son disque n'a pas besoin de la moindre parole pour résonner avec force […] Inspiration, sensibilité, et mélodies coulent de source organique.

Élizabeth Gagnon, Radio-Canada — Espace MU, 12 octobre 2014

Il n'y a pas de paroles mais ça chante, ça nous parle

!

Ralph Boncy,

Voir

, 1 octobre 2014

Voici une musicienne douée, pétillante et toujours allumée […] une musique impressionniste, des envolées pleines de grâce et de douceur. Un disque lumineux

!

Frédéric Cardin, Radio-Canada — Espace MU, 1 octobre 2014

L'attachante pianiste […] admirable musicienne et compositrice, toujours inspirée […] nous offre une œuvre originale et toute nouvelle. Respect, Marianne. Et merci pour cet hymne à la nature, pour cette belle écriture musicale et ces envolées sans ratures.

Alain Brunet, La Presse, 1 octobre 2014

Ce quintette impose notre silence. Voilà ce que la pianiste, compositrice et improvisatrice

Marianne Trudel

me semble avoir fait de mieux en petite formation. Un jazz cohésif, plutôt consonant, hautement mélodique, très riche harmoniquement. Improvisations individuelles ou collectives d'excellent niveau sont au service des compositions matures et abouties de

Marianne Trudel

.
Autres textes
La Scena Musicale no 20:4