This "summit" meeting came with high expectations; the ensuing performance lived up to them. — Coda Magazine, Canada
… sounding more like a fiery encore than an introductory dialogue, the high-velocity workout… — Downbeat, ÉU
L'un des moments marquants de la 18e édition du FIMAV (2001).
En partageant la scène à Victoriaville en 2001, Louis Sclavis et Jean Derome se rencontraient sur un terrain à la fois familier et étranger. Ce genre de dualité est l'essence même d'une aventure artistique qui se veut à la fois une recherche de l'équilibre et une résistance sélective à celui-ci. Il s'agissait d'une rencontre transcontinentale entre deux musiciens qui connaissaient le travail de l'autre, se respectaient mutuellement et étaient réputés pour défier les carcans idiomatiques. Sclavis, le virtuose de la clarinette qui a déjà présenté son projet «Les Violences de Rameau» et un malin duo avec Ernst Reijseger lors de ses précédents passages au FIMAV, est arrivé directement de son domicile de Lyon, France. Le Montréalais Derome, un grand habitué de Victo, a présenté quantité de projets au cours de l'histoire du festival. Ajoutez une section rythmique (et a-rythmique) souple et complémentaire — le brillant contrebassiste français Bruno Chevillon et le batteur québécois ultra-mélodieux Pierre Tanguay — et vous avez là réunies toutes les conditions pour une alliance interculturelle magique. Cette rencontre au sommet d'esprits libres disciplinés a donné lieu à l'un des moments marquants de cette édition du FIMAV et à un paysage musical décousu qui fait fi des genres et de l'adhérence stricte à un plan. La chose a donné naissance à une poésie collective et à des envolées d'expression individuelle; chacun y a pris son pied. Si cette musique porte un message, il tient au pouvoir intrinsèque du dialogue entre musiciens qui explorent le même territoire avec des moyens différents, laissant place aux divergences d'opinions. Les différences culturelles comptaient pour bien peu dans cette conversation provocante et tour à tour profonde, véhémente et réfléchie. —Josef Woodard, février 2002
VICTO 087 / 2003
UPC/EAN 777405008725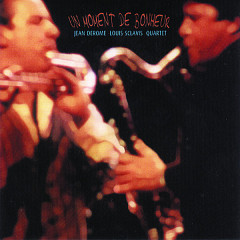 Un moment de bonheur
La presse en parle
Mike Chamberlain, Coda Magazine, 1 janvier 2004

This "summit" meeting came with high expectations

;

the ensuing performance lived up to them.

James Hale, Downbeat, 1 janvier 2004

… sounding more like a fiery encore than an introductory dialogue, the high-velocity workout…

Frank Rubolino, Cadence, 9 septembre 2003

… a power session of intense heat when the two leaders take their horns to far-reaching places and Chevilion and Tanguay spur the ride.

Nicolas Brémaud, Jazzman, no 94, 1 septembre 2003

… poignantes et mystérieuses mélopées…

Réjean Beaucage, Voir, 1 mai 2003

Jazz mutant métissé d'explorations sonores inoues…

Alain Brunet, La Presse, 19 avril 2003

… suspendu aux notes de ces virtuoses qui s'époumonent pour un auditoire aussi enthousiaste qu'averti.

François Couture, AllMusic, 1 avril 2003

The quartet hit it off incredibly well.

Alberto Bazzurro, Musica Jazz, 1 avril 2003

Bill Shoemaker,

The Wire

, n

o

219, 1 mai 2002

… improvisation gives the quartet few opportunities to demonstrate their finesse with shorter jazz-flavoured vehicles.