… an extremely varied ride… — Audion, RU
Fred Frith's all-star band from the early 1990s, on record for the first time — a double CD of Fred's work as you've never heard it before.
Hors catalogue
Cet article n'est pas disponible via notre site web. Nous l'avons catalogué à titre informatif seulement. Vous trouverez peut-être de l'information supplémentaire à propos de cet article sur le site de Fred Records (Fred Frith).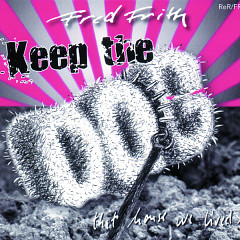 Keep the Dog
:

That House We Lived In
La presse en parle
Alan Freeman, Audion, no 49, 1 mars 2004

… an extremely varied ride…
Alan Freeman,
Audion
, n
o
49, 1 mars 2004
A case of bad planning, the day we happened to start up Ultima Thule as an official business, I'd already booked to see Keep The Dog at the South Bank in London. That was Monday July 3rd, 1989, and an excellent concert it was too. Keep The Dog then consisted of: René Lussier (guitar), Jean Derome (winds), Zeena Parkins (piano, synth, harp and accordion), Bob Ostertag (sampling keyboard) and Kevin Norton (drums, percussion). The only downside of that concert was the guest appearance of John Zorn, whose mad squawking winds ruined a couple of otherwise excellent numbers. Two years down the line, and we have basically the same international troupe, but with ex-This Heat drummer Charles Hayward instead, and no John Zorn. Recorded at various gigs in Austria, Germany and Italy, it amounts to an extremely varied ride through the musical history of Fred Frith. There's lots of familiar stuff, done in unfamiliar ways, and as much that's unique to the Keep The Dog band that has never been released before. This includes a number of improvisations, and lots romping rollicking stuff. It's a shame really that Keep The Dog never made a studio album, but at least there's now this document to prove their existence to all those that missed out. I wonder if they'll ever issue anything from the 1989 version of the band?
… an extremely varied ride…