Les agents de Rappel ont occupé le 418-692-4196 du 15 septembre 1994 au 26 mai 1995, maintenant la ligne est morte, d'autres agents ont envahi l'émission «Chants Magnétiques» sur le réseau FM de Radio-Canada le 7 janvier 95, et finalement voilà ce disque qui les réunit. Tous ont mordu à l'appât téléphonique et ne lâcheront pas. Ils vous conseillent de vous rappeller de Rappel, et de coller vos doigts en permanence sur le cadran du téléphone… Imaginez le téléphone autant comme site sonore que comme site de communication. Prenez le téléphone par les oreilles et hurlez RAPPEL!
AVTR 004 / 1996
Durée totale

:

64:57
Hors catalogue
Cet article n'est pas disponible via notre site web. Nous l'avons catalogué à titre informatif seulement. Vous trouverez peut-être de l'information supplémentaire à propos de cet article sur le site de OHM / Avatar.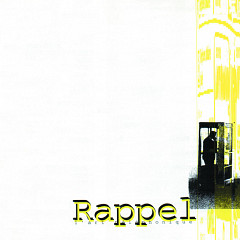 Rappel
Various artists
La presse en parle
Phil England,

The Wire

, n

o

167, 1 janvier 1998

Richard Moule,

Exclaim

!

, 1 septembre 1997

JF, N D - Magazine, 1 juin 1997
Phil England,
The Wire
, n
o
167, 1 janvier 1998
On Rappel, Chris calls every one in the world with the same phone number as him to see if they have anything in common. Practical explorations of intimacy, invasion, the role of ansaphones, the music of the touch tone, public phone boxes and the ease of long distance telecommunications compared to physical travel are made and crafted into sound pieces originally broadcast by a single telephone number for a period of six months (and subsequently on a national radio show).
Richard Moule,
Exclaim
!
, 1 septembre 1997
That Québec has always had a strong tradition in electronic and electro-acoustic music is a given; what continues to surprise is the health, depth and scope of the work being created. The Québec label OHM/AVTR seems interested in exploringsound sources and found sounds. At its core, OHM/AVTR seems to be following the esteemed traditions of people like John Cage, Pierre Schaeffer, Brion Gysin, and more recently Robin Rimbaud's project, and Panasonic, in creating musique concrete and sound collages.
Rappel, is about the art of voyeurism. Produced in collaboration with Radio-Canada's Chant magnétique. Rappel is a coliection of recordings from a little Bell branch office, and from answering machines. Sound experimenters have dropped in on people's phone conversations, capturing their innocent exchanges with one another. The effect is at once banal and disturbing, catching these transmissions and monitoring them much the same way someone would from security services. In a world of instant communications and yet unprecedented surveillance, Rappel tackles issues of privacy and appropriation, and the lines that are drawn between the private and public self when you try to reach out and touch someone.
Compilation of telephone related sound works by Christof Migone, Daniel Leduc, Sylvia Wang, Algojo)(Algojo, Pierre-André Arcand, Chantal Dumas, Kathy Kennedy, Jean Routhier, Gregory Whitehead and Doyon/Demers. There's a lot of French-speak here, making me ill-equipped to understand or judge these pieces, but I'll mention that they tend to remind me of the works by some of these same artists on Nonsequitur's Radius compilations. Here they dwell on the sounds and mysteries of the telephone world rather than the possibilities of radio art (lots of beeps, busy signal, answering machine messages, etc. ) to pretty interesting effect.