Cinquante ans après l'Holocauste, notre monde a laissé commettre un autre génocide, cette fois au Rwanda. Chronique d'un génocide annoncé est un film réalisé par Danièle Lacourse et Yvan Patry avec la musique de René Lussier.
Musique lyrique, musique d'atmosphère, musique orchestrale, textures et ambiances sonores. Des sons libres, éclatés, émouvants qui épousent merveilleusement le film. René Lussier signe ici une musique qui à la fois apaise et exacerbe notre émotion devant ce génocide. Un film à voir, une musique à entendre!
AM 058 / 1998
UPC/EAN 771028105823
Durée totale

:

42:33
Hors catalogue
Cet article n'est pas disponible via notre site web. Nous l'avons catalogué à titre informatif seulement. Vous trouverez peut-être de l'information supplémentaire à propos de cet article sur le site de Ambiances Magnétiques.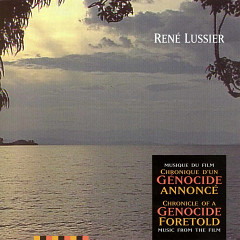 Chronique d'un génocide annoncé
La presse en parle
Nick Mott, Audion, no 42, 1 mars 2000

Henryk Palczewski, Informator "Ars" 2, no 23, 1 août 1998

Serge Truffaut, Le Devoir, 16 mai 1998

Chris Blackford, Rubberneck, no 28, 1 février 1998

… a work of admirable sensitivity and intelligence.
Autres textes
Splendid E-Zine, SOCAN, Paroles & Musique no 5:1