In his youth Ignaz Schick studied the saxophone and performed in free jazz and avant rock bands. At the same time he was getting obsessed with multitrack tape machines, record players and effect boxes and he started experimenting with many different instruments and sound making devices. After college he briefly studied at the Academy of Fine Arts in Munich and worked for several years as an assistent for the contemporary composer Josef Anton Riedl.
Since the late 1995 he works and lives in Berlin where he became an active and integral force of the so-called "Berlin Nouvelle Vague" and the blossoming "real time music" scene. From the middle of the nineties onwards his interest and activities almost completely shifted towards live-electronics and after testing various instrumentations (hard- & software samplers, signal processing, contact mics, field recordings…) he developed his own and quite unique electro-acoustic set-up which he calls "rotating surfaces". Various objects and materials (from wood, metal, plastic, paper or violin bows and cymbals) are played directly on the rotating metal plate of the turntable and the vibrations are simply amplified with a small condensator microphone. With this set-up he covers many different styles of contemporary experimental music — ranging from extreme reductionism via ambient, industrial, musique concrète, electronica to harsh noise. Besides his favorite setting — the direct duo-confrontation with the likes of Chris Abrahams, Phil Durrant, Martin Tétreault or Sabine Vogel — he is member and founder of many different ensembles like Perlonex, Snake Figures Arkestra, Phosphor, Blind Snakes, Decollage…
He has collaborated with numerous international artists (most notably Don Cherry and Charlemagne Palestine) and toured and performed clubs and festivals all over Eastern and Western Europe, the USA, Russia and the Balkans. He has released many albums on labels like Zarek, Edition Zangi, edition x, Irrah, Potlatch, Bad Alchemy, Charhizma, Staalplaat, Nexsound, Non Visual Objects, Improvised Music From Japan or Absinth and he was part of radio broadcasts and productions for ORF-Kunstradio, ORF-Zeitton, BR2, DLR, DLF, WDR3, and DRS2.
Furthermore he has been curating festivals of experimental music from the early 90s onwards (FAM, Erase & Reset, Tim Shifts).
[viii-09]
Ignaz Schick
Trostberg (Germany), 1972
Residence: Berlin (Germany)
Composer
Performer (turntables)
Sound artist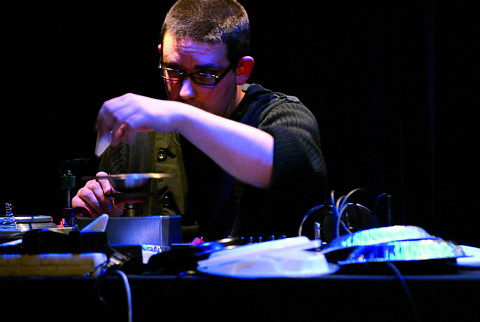 Ignaz Schick
in concert in Montreal [Photo
:
Jean-Claude Désinor, Montréal (Québec), March 10, 2010]
In the press
… l'expérience est enrichissante

:

elle impose une écoute nouvelle, et place l'auditeur hors du confort du système tonal et harmonique traditionnel.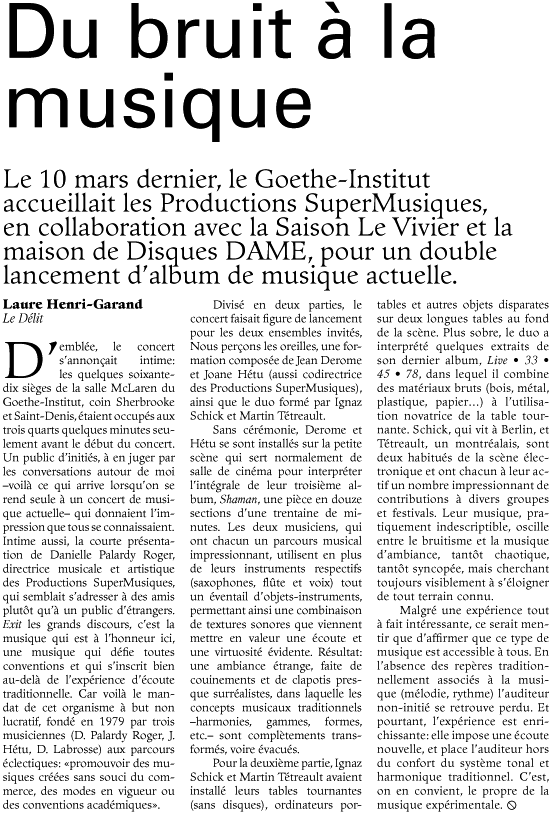 Le 10 mars dernier, le Goethe-Institut accueillait les Productions SuperMusiques, en collaboration avec la Saison Le Vivier et la maison de Disques DAME, pour un double lancement d'album de musique actuelle.
D'emblée, le concert s'annonçait intime: les quelques soixantedix sièges de la salle McLaren du Goethe-Institut, coin Sherbrooke et Saint-Denis, étaient occupés aux trois quarts quelques minutes seulement avant le début du concert. Un public d'initiés, à en juger par les conversations autour de moi –voilà ce qui arrive lorsqu'on se rend seule à un concert de musique actuelle– qui donnaient l'impression que tous se connaissaient. Intime aussi, la courte présentation de Danielle Palardy Roger, directrice musicale et artistique des Productions SuperMusiques, qui semblait s'adresser à des amis plutôt qu'à un public d'étrangers. Exit les grands discours, c'est la musique qui est à l'honneur ici, une musique qui défie toutes conventions et qui s'inscrit bien au-delà de l'expérience d'écoute traditionnelle. Car voilà le mandat de cet organisme à but non lucratif, fondé en 1979 par trois musiciennes (D. Palardy Roger, J. Hétu, D. Labrosse) aux parcours éclectiques: «promouvoir des musiques créées sans souci du commerce, des modes en vigueur ou des conventions académiques».
Divisé en deux parties, le concert faisait figure de lancement pour les deux ensembles invités, Nous perçons les oreilles, une formation composée de Jean Derome et Joane Hétu (aussi codirectrice des Productions SuperMusiques), ainsi que le duo formé par Ignaz Schick et Martin Tétreault.
Sans cérémonie, Derome et Hétu se sont installés sur la petite scène qui sert normalement de salle de cinéma pour interpréter l'intégrale de leur troisième album, Shaman, une pièce en douze sections d'une trentaine de minutes. Les deux musiciens, qui ont chacun un parcours musical impressionnant, utilisent en plus de leurs instruments respectifs (saxophones, flûte et voix) tout un éventail d'objets-instruments, permettant ainsi une combinaison de textures sonores que viennent mettre en valeur une écoute et une virtuosité évidente. Résultat: une ambiance étrange, faite de couinements et de clapotis presque surréalistes, dans laquelle les concepts musicaux traditionnels –harmonies, gammes, formes, etc.– sont complètements transformés, voire évacués.
Pour la deuxième partie, Ignaz Schick et Martin Tétreault avaient installé leurs tables tournantes (sans disques), ordinateurs portables et autres objets disparates sur deux longues tables au fond de la scène. Plus sobre, le duo a interprété quelques extraits de son dernier album, Live • 33 • 45 • 78, dans lequel il combine des matériaux bruts (bois, métal, plastique, papier…) à l'utilisation novatrice de la table tournante. Schick, qui vit à Berlin, et Tétreault, un montréalais, sont deux habitués de la scène électronique et ont chacun à leur actif un nombre impressionnant de contributions à divers groupes et festivals. Leur musique, pratiquement indescriptible, oscille entre le bruitisme et la musique d'ambiance, tantôt chaotique, tantôt syncopée, mais cherchant toujours visiblement à s'éloigner de tout terrain connu.
Malgré une expérience tout à fait intéressante, ce serait mentir que d'affirmer que ce type de musique est accessible à tous. En l'absence des repères traditionnellement associés à la musique (mélodie, rythme) l'auditeur non-initié se retrouve perdu. Et pourtant, l'expérience est enrichissante: elle impose une écoute nouvelle, et place l'auditeur hors du confort du système tonal et harmonique traditionnel. C'est, on en convient, le propre de la musique expérimentale.
… l'expérience est enrichissante

:

elle impose une écoute nouvelle, et place l'auditeur hors du confort du système tonal et harmonique traditionnel.
Blog
Martin Tétreault will be touring with Érik M, Katsura Mouri and Ignaz Schick from October 29 to November 4, 2009. Do not miss them in Oslo, Bergen, Geneva, Metz, and Nantes.…