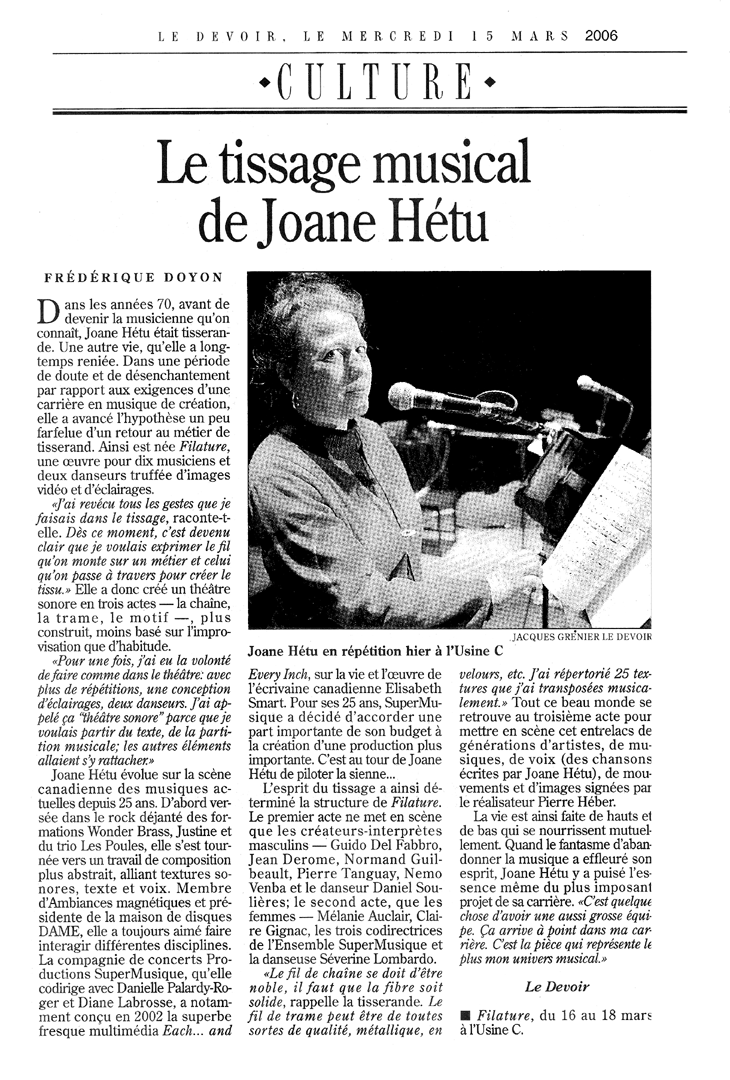 Dans les années 70, avant de devenir la musicienne qu'on connaît, Joane Hétu était tisserande. Une autre vie, qu'elle a longtemps reniée. Dans une période de doute et de désenchantement par rapport aux exigences d'une carrière en musique de création, elle a avancé l'hypothèse un peu farfelue d'un retour au métier de tisserand. Ainsi est née Filature, une œuvre pour dix musiciens et deux danseurs truffée d'images vidéo et d'éclairages.
«J'ai revécu tous les gestes que je faisais dans le tissage, raconte-t-elle. Dès ce moment, c'est devenu clair que je voulais exprimer le fil qu'on monte sur un métier et celui qu'on passe à travers pour créer le tissu.» Elle a donc créé un théâtre sonore en trois actes — la chaîne, la trame, le motif —, plus construit, moins basé sur l'improvisation que d'habitude.
«Pour une fois, j'ai eu la volonté de faire comme dans le théâtre: avec plus de répétitions, une conception d'éclairages, deux danseurs. J'ai appelé ça "théâtre sonore" parce que je voulais partir du texte, de la partition musicale; les autres éléments allaient s'y rattacher.»
Joane Hétu évolue sur la scène canadienne des musiques actuelles depuis 25 ans. D'abord versée dans le rock déjanté des formations Wonder Brass, Justine et du trio Les Poules, elle s'est tournée vers un travail de composition plus abstrait, alliant textures sonores, texte et voix. Membre d'Ambiances magnétiques et présidente de la maison de disques DAME, elle a toujours aimé faire interagir différentes disciplines. La compagnie de concerts Productions SuperMusique, qu'elle codirige avec Danielle Palardy Roger et Diane Labrosse, a notamment conçu en 2002 la superbe fresque multimédia Each… and Every Inch, sur la vie et l'œuvre de l'écrivaine canadienne Elisabeth Smart. Pour ses 25 ans, SuperMusique a décidé d'accorder une part importante de son budget à la création d'une production plus importante. C'est au tour de Joane Hétu de piloter la sienne…
L'esprit du tissage a ainsi déterminé la structure de Filature. Le premier acte ne met en scène que les créateurs-interprètes masculins — Guido Del Fabbro, Jean Derome, Normand Guilbeault, Pierre Tanguay, Nemo Venba et le danseur Daniel Soulières; le second acte, que les femmes — Mélanie Auclair, Claire Gignac, les trois codirectrices de l'Ensemble SuperMusique et la danseuse Séverine Lombardo.
«Le fil de chaîne se doit d'être noble, il faut que la fibre soit solide, rappelle la tisserande. Le fil de trame peut être de toutes sortes de qualité, métallique, en velours, etc. J'ai répertorié 25 textures que j'ai transposées musicalement.» Tout ce beau monde se retrouve au troisième acte pour mettre en scène cet entrelacs de générations d'artistes, de musiques, de voix (des chansons écrites par Joane Hétu), de mouvements et d'images signées par le réalisateur Pierre Hébert.
La vie est ainsi faite de hauts et de bas qui se nourrissent mutuellement. Quand le fantasme d'abandonner la musique a effleuré son esprit, Joane Hétu y a puisé l'essence même du plus imposant projet de sa carrière. «C'est quelque chose d'avoir une aussi grosse équipe. Ça arrive à point dans ma carrière. C'est la pièce qui représente le plus mon univers musical.»
François Nadon, Ici Montréal, March 9, 2006
The role of music in the theatrical arts is usually a secondary one, used to highlight dramatic action or inspire a choraographer's vision. Music seems mone abstract than words or gestures to most people. With her latest creation, Filature, premiered this month at Usine C, musique actuelle composer, vocalist and improvising saxophonist Joane Hétu sets out to show the theatrical potential of music and how other arts can be put to its service.
During a recent conversation held at the offices of Ambiances Magnétiques, of which she is the label's chief adminstrator, Hétu explained her vision as being inspired by the art of weaving, once an occupation of hers. "Musique actuelle is a hybrid form, born of mixing disparate things. Weaving has similar principles — the craft involves mixing various threads to create a pattem, a pleasing artistic form."
In this "Théâtre sonore" of hers, the threads are the instrumental "voices" of the musicians, with counterpoint provided by a pair of dancers, and important visual components including costumes, lighting and video projections. Still, the musicians are at the heart of this project, a point Hétu further elaborates upon. "I have to know who I'm writing for. I'm not just writing for a particular instrument — it starts with a particular musician." The work is dividad into three acts, each based on a principle of weaving: Act I is titled Chaîne, Act II Trame and Act III Motif, weaving terms that translate as "warp", "weft" and "weave". "In the opening act, male musicians are on stage with a male dancer, followed by an all-female cast in Act II and all 10 musicians share the stage in Act III, their lines interweaving with each other's. Most importantly, everything grows out of the music."
Even if there are improvised parts, Hétu hastens to add, "The music is mostly written, with the visuals borne out of the music." In this way, the contributions of video artist Pierre Hébert, lighting designer Guillaume Bloch, costume designer Louis Hudon and sound engineer Bernard Grenon are all in keeping with the music. "So this is a turning of the tables, at least with respect to what usually happens with music and other performing arts," explains Hétu.
The musical component will be handled by some of musique actuellets best know characters, among them Jean Derome, Diane Labrosse, Pierre Tanguay and Normand Guilbeault, the featured dancers being Daniel Soulières and Séverine Lombardo. "We're working with textures," Hétu reminds us, "but the underlying structure behind these are the music. Always."
Musique actuelle is a hybrid form, born of mixing disparate things. Weaving has similar principles — the craft involves mixing various threads to create a pattem…