Not in catalogue
This item is not available through our web site. We have catalogued it for information purposes only. You might find more details about this item on the Effendi Records website.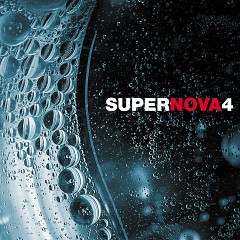 SuperNova4
In the press
… memorable, breathtaking and powerful.

… un superalbum […] C'est dit.
Montréal-based musicians Jean Derome (alto/baritone saxophone, flute), Normand Guilbeault (double bass) and Pierre Tanguay (drums) were approached by Swiss/Montréal-based pianist/composer/producer Félix Stüssi to combine musical forces to perform his works. Recorded live in 2019 at Montréal's Chapelle historique du Bon-Pasteur and at Oscar Peterson Concert Hall, this is out-of-this-world uplifting music.
Stüssi's compositional style encompasses the traditional to modern jazz with tons of inherent improvisational opportunities. Highlights include the opening track, T.R.T (Tapir Racing Team) an upbeat, happy, tonal toe-tapping tune, with contrasting slower solo sections, showcasing formidable tight ensemble work and solo musicianship. The exuberant Bagatelle features an underlying humorous jazz feel contrasted by intermittent slow rubato sections and Stüssi's flashy, fast-trilled piano solos. Guilbeault's contrasting high and deep low resonating held and plucked bass solo opens Urubu, a more atonal piece highlighted by quasi-unison piano/sax lead-line playing and subsequent full-band loud section. The closing more modern-sounding Super 8 features more solos and a full band finishing with a bang and cymbal crash. Also included is Jean Derome's composition La Nouvelle Africaine which opens with an extended Tanguay drum kit solo with singing cymbal effects, leading to upbeat clear ensemble playing and a rapid, intense, clever Derome sax solo.
Supernova4 with its unique compositions and solo/ensemble performances are equal if not superior to April's supermoon or a supernova star blast – memorable, breathtaking and powerful.
… memorable, breathtaking and powerful.
Il y a tout d'abord Jean Derome, ses saxophones et ses flûtes, Normand Guilbeault, sa contrebasse et son archet, et Pierre Tanguay, sa batterie et son sourire. À eux viennent de se greffer, plus que se joindre, Félix Stüssi et son piano. Le long. Des trois premiers, on ne soulignera jamais assez qu'ils forment le trio par excellence sans limites géographiques ou territoriales. On osera même dire: il y a eux, et il y a les autres.
Aujourd'hui, cette bande de quatre, qui n'est en rien maoïste, propose un album intitulé SuperNova 4 et publié par l'étiquette Effendi. Disons-le d'emblée, c'est un grand, un très grand disque. Sur les dix pièces proposées, huit ont été composées par Stüssi, une par Derome et la dernière, soit C Jam Blues, par Edward Kennedy Ellington, l'aristocrate, dans le sens le plus noble du terme, du jazz.
C'est d'ailleurs à ce dernier que l'on a pensé lors de l'écoute du premier morceau, T.R.T., pour Tapir Racing Team. À moins d'avoir la berlue, on a eu le sentiment d'entendre des échos du fameux Take the A Train de maître Ellington. Sans que ces échos prennent totalement le dessus sur la composition de Stüssi, qui est également, avant qu'on ne l'oublie, le producteur, la cheville ouvrière de cet album enregistré lors d'une prestation à la Chapelle historique du Bon-Pasteur.
Ce qu'il y a d'extraordinaire, oui, c'est le mot, dans ce groupe est tout simple à expliquer: Derome est d'une incroyable précision, toujours concis dans ses envolées, Tanguay a une maîtrise de la ponctuation qui fait penser indéniablement à Billy Higgins ou Shelly Manne, Guilbeault a ce sens de la profondeur qui fait les grands éclaireurs, ceux à qui on fait toujours confiance musicalement causant (son introduction d'Urubu est poignante).
Puis, il y a évidemment Stüssi. Ce Suisse d'origine nous fait beaucoup penser à Ethan Iverson. Comme l'ex-pierre angulaire de The Bad Plus, Stüssi est un virtuose, mais également un encyclopédiste. Attention, toutefois! Pas un encyclopédiste qui remonte les bretelles des uns et des autres, qui est arrogant ou prétentieux. C'est un encyclopédiste comme suit: il use de ses vastes connaissances des canons du jazz, de son histoire, pour mieux les moudre, les touiller, afin de produire des musiques fluides, cohérentes. Aucune seconde d'ennui dans cet album.
Il y a aussi ceci: l'éventail sonore. En deux mots, il est riche, large. On passe de quelque chose qui rappelle Duke Ellington au mystère d'Urubu, ou au «gospélisant» Catch 22, ou encore à la chanson française avec Bagatelle… Bref, chaque morceau est une surprise.
Pour dire les choses très platement, ce SuperNova 4 s'avère d'ores et déjà un des grands albums de l'année en cours. Peut-être même de la décennie qui s'amorce. C'est dit.
… un superalbum […] C'est dit.