Canada Council for the Arts • SODEC
Les albums qui ont marqué l'équipe après une demi-année — Le canal auditif, Québec
… a music at the thin edge between experimental and pop which make us believe in a colorful and diverse future for music. Hybrid concepts are good change agents, catalysts for new movements, Siamois Synthesis has everything to get international recognition… — Néomémoire
Siamois Synthesis's first album was born out of the chance encounter and subsequent friendship of a group of strangely connected individuals.
Both a sound slowly sculpted for almost a decade, and the fruit of a series of spontaneous electric explosions, Feu aimant is a secret substance, originating from everywhere and nowhere; a substance that has always and never existed before, a waking dream leading us to the end of the night.
Recorded in the summer of 2019, Feu aimant's seven tracks feature Maxime Corbeil-Perron's dreamlike electronics, Sylvain Gagné's prepared bass melodies, the colourful voice of Maya Kuroki and the sharp guitar playing of Simon Trottier.
AM 252 / 2020
UPC/EAN 771028125210
Total duration

:

41:12
AM 252_NUM / 2020
UPC/EAN 771028125289
Total duration

:

41:12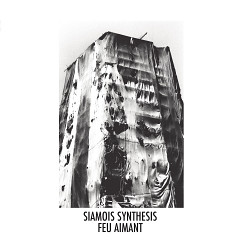 Feu aimant