There is beauty in the details, surprise in the occasional abrupt climaxes. — The New York City Jazz Record, USA
Réunion is the first totally improvised concert of the famed Queen Mab Trio founded in 2002. The recording is from a live concert at Gallery 345 in Toronto, Ontario, on December 2, 2016. Although the three musicians toured extensively together in the Ig Henneman Sextet, this is their first trio appearance since Dec 6, 2008 when they performed at the Total Music Meeting in Tours (FR).
The trio explores the boundaries and shared space in and between the realms of composed and improvised music, drawing on their own diverse influences of jazz, musique actuelle, rock, new music, early music and 20th century classical music.
"A stellar trio featuring three of the most engaging, maverick improvisers working today, Queen Mab Trio bristles with electrifying, revolutionary delight. Lerner is a virtuosic performer who straddles the poles that bookend jazz-folk tradition and outright, defiant freedom. Henneman, like the best of the Dutch improvisers, has a jousting, fearless instinct and a refined sense of play that is aggressive as well as it is inviting. Freedman is simply one of music's more rivetting, incendiary forces — alternately muscular and seductive, conversational and bellowing. The trio's mind-expanding interplay and vivid mood-trafficking sound is utterly compelling. Chamber jazz for the fourth dimension". — TD Willamette, Week Portland
MKR 102 / 2017
UPC/EAN 771028300280
Total duration

:

45:41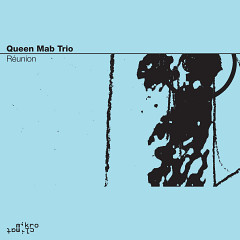 Réunion