ADISQ 2015 — Nomination
Juno 2015 — Nomination
Prix Opus 2014-15: Disque de l'année — Jazz — Finaliste
Trudel wrote all the tunes, many of which carry an emotional intensity. A fine record from the Canadian pianist and her band. Three Cheers. — LondonJazzNews, UK
… Trudel's material can suggest Mozart, at other times Ravel, […] developing a meditative depth that communicates a reverence for life. — The WholeNote, Canada
Energetic, impassioned pianist and composer Marianne Trudel offers us her latest album and project La vie commence ici [Life Begins Here!]. One again, this artist has successfully combined the best ingredients in order to deliver music that will touch connoisseurs and neophytes alike; an exceptional group that joins forces with the extraordinary New York trumpeter Ingrid Jensen. Take the plunge into adventure… Life begins here!
"In each leaf, each wave, each stone
Each gesture, each look
A laugh, a kiss, a tear
Oh! A heron! Did you see?
Life. Here. Now.
Every second.
Immense and fragile
Respect."
JTR 8588 / 2014
UPC/EAN 068944858828
Total duration

:

51:14
Not in catalogue
This item is not available through our web site. We have catalogued it for information purposes only. You might find more details about this item on the Justin Time Records website.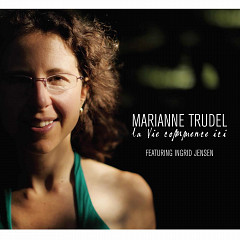 La vie commence ici
In the press
Trudel

wrote all the tunes, many of which carry an emotional intensity. A fine record from the Canadian pianist and her band. Three Cheers.

Stuart Broomer, The WholeNote, no. 20:5, February 1, 2015

…

Trudel

's material can suggest

Mozart

, at other times

Ravel

, […] developing a meditative depth that communicates a reverence for life.

Christophe Rodriguez, Sorties Jazz Nights, January 29, 2015

Pianist

Marianne Trudel

, the idea-rich Montreal-infused jazz dynamo, is celebrating her Juno nomination in the jazz category. In

La vie commence ici

, for which she worked in tandem with trumpeter

Ingrid Jensen

, everything is in its place for a MAJOR colour-juxtaposing album.

Unfolding decisively with anthemic uplift, "Soon" impacts mission statement-style, like a musical calling card.

Here's a composer

, it announces,

with her own identifiable sound

. […] Absolute perfection of the track sequence, which sustains a palpable non-verbal narrative right across the record. In light of such accomplished unity, let's consider this

whole album

a calling card—a signifier of

Marianne Trudel

's brilliant presence and promise. […] The two-minute "Question" breathes the same rarified atmosphere as Ives'

The Unanswered Question

and Copland's

Quiet City

. The four-minute "Night heron" begins as a similarly elemental snippet, but after a minute and a half of abstract equivocation the duo breaks out a gorgeous Trudelian melody delivered haltingly, mirroring a beauty fleetingly glimpsed.

Mathieu Charlebois, L'actualité, December 1, 2014

Pianist

Marianne Trudel

always puts forward high calibre jazz, and this album featuring trumpeter

Ingrid Jensen

is no exception. The solos are as inspired as the compositions, and the finesse of the arrangements is only matched by the dexterity of the pianist.

Gilles Boisclair, SOCAN, Paroles & Musique, December 1, 2014

Piece by piece,

Marianne Trudel

is building a body of work that is increasingly mature and sensitive.

An excellent new release from pianist

Marianne Trudel

.

La vie commence ici

comes off as being very centered. There's a calm to the music even when things get a bit heated. Soloists are provided optimal conditions to express their thoughts, and the way in which their solos, more often than not, build on the group vision rather than focus on just their own individual perspective is the element that provides the album its sense of flawless completion. It's one of those albums that resonates strongly by keeping things simple and honing its focus.

Christophe Rodriguez, Le Journal de Montréal, November 3, 2014

Refined writing, 10 very personal tracks, an invitation to journey.

Ingrid Jensen

is majestic.

Terrifically resonant recording from pianist Trudel, who doesn't seem to be doing anything very complicated, and yet each song is supremely engaging to where it becomes nearly impossible to do anything other than sit back and listen.

Yves Bergeras,

Le Droit

, October 25, 2014

Undulating and soothing, the music on her album doesn't need a single lyric to resonate powerfully […] Inspiration, sensitivity, and melodies all flow organically from the source.

Élizabeth Gagnon, Radio-Canada — Espace MU, October 12, 2014

There are no lyrics, but it sings, it really speaks to us

!

Alain Brunet, La Presse, October 1, 2014

This quintet renders us speechless. This is what pianist, composer and improviser

Marianne Trudel

seems to have done even better in a small ensemble. Jazz that is cohesive, relatively consonant, highly melodic, very harmonically rich. The excellent individual and collective improvisations really complement

Marianne Trudel

's mature, accomplished compositions.

Ralph Boncy,

Voir

, October 1, 2014

A musician who is gifted, vivacious and always on her toes […] impressionistic music, soaring, graceful lines full of warmth. A radiant album

!

Frédéric Cardin, Radio-Canada — Espace MU, October 1, 2014

The engaging pianist […] admirable musician and composer, always inspiring […] offers us a brand new original work. Respect, Marianne. And thank you for this ode to nature, for this beautifully composed music and these flawless soaring lines.
More texts
La Scena Musicale no. 20:4