One of the clear highlights of the 18th fimav 2001.
When Louis Sclavis and Jean Derome joined artistic forces for a Victoriaville concert in 2001, it was a meeting on turf both familiar and alien. That sort of duality is at the heart of an artistic adventure all about the pursuit of, and also selective resistance to, balance. It was a transcontinental first encounter between musicians who knew of each other, who shared mutual respect, and are known to cross idiomatic borders. The virtuoso and range-free clarinetist Sclavis, whose memorable FIMAV visits have included his "Les Violences de Rameau" project and a wily duo with Ernst Reijseger, headed over from his home base in Lyon, France. Montréaler Derome, a frequent FIMAV flyer, has brought countless projects to town over the FIMAV's history. Just add a complementary, suitably flexible rhythm (and anti-rhythm) section — the brilliant French bassist Bruno Chevillon and hyper-musical Quebec drummer Pierre Tanguay — and the stage was set for a magical cross-cultural alliance. The conference of disciplined free spirits resulted in one of the clear highlights of that year's FIMAV, and a rambling musical landscape with proper disregard for genre or strict adherence to structure. Collective poetry and individual expressive flights came into being, and a raucous good time wase had. If there's a message in this music, it has something to do with the intrinsic power of dialogue between musicians who can claim both common ground and musical differences of opinion, for spice's sake. Nationality and cultural distinctions were moot in this provocative conversation, by turns deep, raging, reflective, and encouraging more of the same. —Josef Woodard, February, 2002
VICTO 087 / 2003
UPC/EAN 777405008725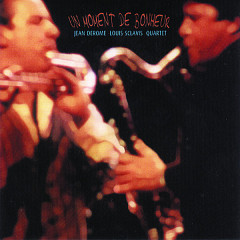 Un moment de bonheur
In the press
Mike Chamberlain, Coda Magazine, January 1, 2004

This "summit" meeting came with high expectations

;

the ensuing performance lived up to them.

James Hale, Downbeat, January 1, 2004

… sounding more like a fiery encore than an introductory dialogue, the high-velocity workout…

Frank Rubolino, Cadence, September 9, 2003

… a power session of intense heat when the two leaders take their horns to far-reaching places and Chevilion and Tanguay spur the ride.

Nicolas Brémaud, Jazzman, no. 94, September 1, 2003

… poignantes et mystérieuses mélopées…

Réjean Beaucage, Voir, May 1, 2003

Jazz mutant métissé d'explorations sonores inoues…

Alain Brunet, La Presse, April 19, 2003

… suspendu aux notes de ces virtuoses qui s'époumonent pour un auditoire aussi enthousiaste qu'averti.

François Couture, AllMusic, April 1, 2003

The quartet hit it off incredibly well.

Alberto Bazzurro, Musica Jazz, April 1, 2003

Bill Shoemaker,

The Wire

, no. 219, May 1, 2002

… improvisation gives the quartet few opportunities to demonstrate their finesse with shorter jazz-flavoured vehicles.