We follow their stories with a sustained interest that makes this album a captivating immersive experience. — SOCAN, Paroles & Musique, Canada
Truly gentle and never dull, this album is quite simply lovely and soothing. — La Scena Musicale, Québec
The musical world proposed by the piano-harmonica duet of the Duo Trudel-Bourbonnais is an enticing one to discover. Throughtout their program of ten impressionistic pieces of ethereal moods and occasional bitter-sweet melancholy, the musicians draw the listener into tonal landscapes of endless beauty.
TRUD 20091 / 2009
UPC/EAN 620675210377
Total duration

:

42:13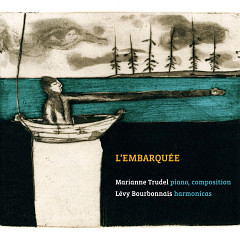 L'embarquée
In the press
Gabriel Bélanger, SOCAN, Paroles & Musique, no. 16:4, December 1, 2009

We follow their stories with a sustained interest that makes this album a captivating immersive experience.

Annie Landreville, La Scena Musicale, December 1, 2009

Truly gentle and never dull, this album is quite simply lovely and soothing.

Mike Chamberlain,

Hour

, October 22, 2009

As for the playing, a piano and harmonica could easily get in one another's way, but

Trudel

avoids this by focusing on melody and intelligent use of musical space, leaving room for

Bourbonnais

' musings

Serge Truffaut, Le Devoir, October 10, 2009

At the piano,

Trudel

displays a sensitivity that distiguishes her from many local pianists.

With fine-tuned sensitivity, composer

Marianne Trudel

seizes another opportunity to shine, to harness and channel first-rate intuition.

Stanley Péan,

Voir

, October 8, 2009

Imbued with imagination, poetry and melancoly, their musical dialogue reveals the composer's temperament and the admirable eclecticism so clearly demonstrated by

Trudel

, a genuine treasure of the local jazz scene.

Christophe Rodriguez, Sorties Jazz Nights, October 1, 2009

A long voyage that is seductive, harmonically brilliant and sensitive.