Une leçon d'ouverture. — SOCAN, Paroles & Musique, Canada
Frank Martel is not a good singer, nor a great player. Where he shines at his wordplaying like there's no tomorrow. — Monsieur Délire, Québec
Frank Martel and Bernard Falaise carry on their longstanding collaboration, this time with a studio experimentation project. The focus rests on certain states of being, of being strange, of being open to limit states. Somewhere between the body of work (arrangements), the sound of the voice (and voices), and the choice of words. To sing in a theatrical, playful, subversive way. Like a tree falling from the fruit. The possibility for something to say something different. Music copied from words inspired by another music inspired by different words imitating yet another music, and so on until the parakeet's screeching laughter makes everything bounce - notes and words - from song to song, like panicking ping-pong balls. Music as an experience. Simply surrendering to what's coming. Being able to open up.
"Ouala i ouala i (ou) wala!"
A bit of animality in man?
MFMV 17 / 2009
UPC/EAN 771028251728
Total duration

:

39:31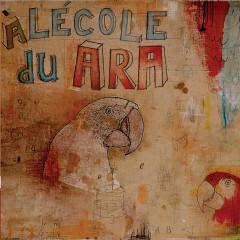 À l'école du ara
Blog
The eclectic radio show Délire musical rencently announced the list of 50 discs selected by its team for the year-end show. Two releases ranked well: Migration by Cordâme, and À l'école du ara by Frank Martel and Bernard Falaise. Listen to…

Tuesday, December 29, 2009 /

General