Chant des adieux, chant de la solitude is a classy affair. — Splendid E-Zine, USA
Un album tout simplement touchant, bien au delà des clivages musicaux habituels. — Solénoïde, France
This is a collection of impressionnistic pieces, in which songs and instrumental compositions fray together, along with marches and waltzes, bringing to mind a story of drowning, with wounds and mourning but also hope.
From a hotel on a cliff by the sea comes a song of farewell. Through it we remember those who we have loved and those who are no longer with us. Through fearful nights that threaten isolation, we mingle the sounds of our instruments and our those of our flesh. We hold our hands in the fierce wind. —MHM
MFMV 02 / 2001
UPC/EAN 771028250226
Total duration

:

56:58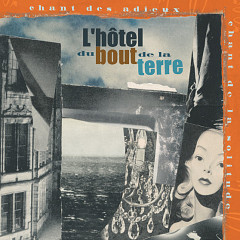 Chant des adieux, chant de la solitude
In the press
SM, emoRAGEi, no. 17, September 1, 2002

Alan Freeman, Audion, no. 47, September 1, 2002

Luke Martin, Splendid E-Zine, August 6, 2002

Chant des adieux, chant de la solitude is a classy affair.

Luc Bouquet, ImproJazz, no. 88, August 1, 2002

Un album tout simplement touchant, bien au delà des clivages musicaux habituels.

Euro-Rock Press, no. 13, June 1, 2002

Dolf Mulder, Vital, March 28, 2002

… listening to Interférence Sardines it became clear to me that we have a new creative outburst here.
More texts
Convergence no. 2:3