Music(s) is an up-close and personal portrait of Japanese composer Otomo Yoshihide. Founding member in 1990 of the mythical group Ground Zero, produced by John Zorn, Yoshihide is one of the main figures on the Japanese new music scene. This free jazz fan and noise music lover tours the world with his various ensembles, but also on his own, with his guitar or his surprising turntables. This double DVD set will allow you to meet this talented artist through generous excerpts from filmed concerts. This document unveils all the richness and diversity of Otomo Yoshihide's music.
Double DVD, DVD 1: Interview and in-concert excerpts, 49'; DVD 2: Concerts, 65'; NTSC, All Regions; English & French Versions.
LH 006 / 2005
UPC/EAN 3760123560719
Total duration

:

114:00
2 DVDR-Video [NTSC, multi-region]
Not in catalogue
This item is not available through our web site. We have catalogued it for information purposes only. You might find more details about this item on the La Huit Production website.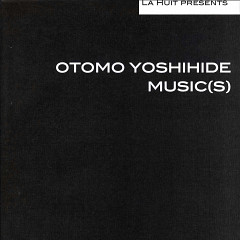 Music(s)
In the press
Annie Landreville, Félix-Antoine Hamel, Marc Chénard, La Scena Musicale, no. 2:2, December 1, 2008
Annie Landreville, Félix-Antoine Hamel, Marc Chénard,
La Scena Musicale
, no. 2:2, December 1, 2008
Sur DVDR-Vidéo, le réalisateur Guillaume Dero propose un portrait kaléidoscopique du musicien Otomo Yoshihide, et illustre les trois expériences musicales qui lui tiennent à cœur: la direction de son New Jazz Ensemble, sa pratique en solo de la guitare, et ses expérimentations sur «turntables».
Ouvert, faux ami, sur le rythme d'une danse de salon interprétée par le New Jazz Ensemble lors de l'édition 2005 du Festival Banlieues Bleues, le film papillonne ensuite d'extraits de deux autres concerts – donnés à Tokyo la même année, et présentant Yoshihide seul derrière un tourne-disque ou une guitare – et de bribes d'interviews. Là, le musicien avoue ne pas vouloir séparer la composition de l'improvisation, dit ne pas faire forcément de différence entre bruit et musique, étant davantage intéressé par la texture du son que par la forme que celui-ci peut prendre.
Démontrant comment Yoshihide concrétise de manières différentes ses intentions, le film revient sur le concert donné à Pantin par un New Jazz Ensemble facétieux, qui fait dériver un swing accompli jusqu'aux marges d'un rock bruitiste, ou parsème une progression rassurante d'éléments électroniques dérangeants (Sachiko M s'en chargeant avec efficacité sur Orange Was The Colour of Her Dress and Then Blue Silk de Mingus).
A Tokyo, Yoshihide défend encore ces deux aspects de la musique comme elle lui est apparue: expérimentale, voire provocatrice, derrière ses platines; mélodique, voire sentimentale, seul à la guitare. D'autres extraits que ceux du portrait continuent, en bonus, d'illustrer le va et vient constant et pas contradictoire d'un musicien hors pair, pour compléter un film au fond réfléchi et à la forme élégante.