Écrits et chuchotements / Page vs Stage, Les Filles électriques' first DVD-Video, includes performances by 14 of the most important artists on the Montréal poetry scene. We believe this historic document will be an invaluable living resource to support the work of teachers of literature, music, interdisciplinary arts and theatre.
LFE 0601 / 2006
UPC/EAN 771028251490
Total duration

:

155:00
DVD-Video [NTSC, multi-region] (Dolby Digital) + 20-page bilingual (English, French) booklet
Not in catalogue
This item is not available through our web site. We have catalogued it for information purposes only.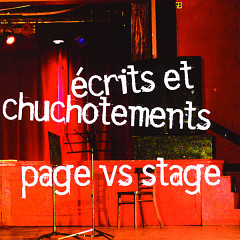 Écrits et chuchotements / Page vs Stage
Spoken Word Montréal 1
:

Festival Voix d'Amériques 2003-05

Various artists