Born in 1987, Icarus produced two very different albums: Beating the Racoon, recorded in 1990 in a chamber jazz style closely related to Winter Consort and Oregon, and Quand est-ce qu'on prend des vacances? recorded in 1994 flying over a rather coarse and bumpy territory. Icarus is jazz, funk, rock, blues, tango, latin, african and new music all at once. The numerous styles give to Icarus its unique sound. Its peculiar instrumentation and the complicity between the four musicians create an audacious, subtle and passionate music, always undergoing changes. Icarus finds its inspiration in improvisation. The dialog and polyrhythmics, the textures and unusual sounds make for the style of the group. Both CD's are now available through DAME.
JACD 4029 / 1994
UPC/EAN 774204402921
Total duration

:

55:44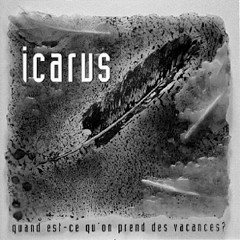 Quand est-ce qu'on prend des vacances
?