Composer(s): Pierre-André Arcand, Georges Azzaria, Jean-Pierre Gauthier, Ken Gregory, Diane Landry, Hugh Le Caine, Emmanuel Madan, Rita McKeough, Bill Mullan, Daniel Olson, Rober Racine, Jean Routhier, Michael Snow, Martin Tétreault, Hildegard Westerkamp
Author(s): Nicole Gingras, Diana Burgoyne, Duff Tagny, Jean-Pierre Gauthier, Raymond Gervais, Colin Griffiths, Steve Heimbecker, Christof Migone, Gordon Monahan, James Partaik, Hélène Prévost, Nicolas Reeves, Jocelyn Robert, R Murray Schafer, Tom Sherman, Alexandre St-Onge, Michèle Waquant, Hildegard Westerkamp, Gayle Young
S:on is a book and CD to be read, seen, heard, and appreciated. — Musicworks, Canada
This publication grew out of a research project by Nicole Gingras, a Montréal-based independent curator, critic, publisher and media arts event organizer. Her research began in the summer of 2002, as part of a six-month residency at Artexte Information Centre. Having identified various acoustic components in visual and media arts in Canada, the author shares her reflections on this exploratory approach to an art form at the junction of music, visual and performing arts.
Orchestrating key critical essays and never before published texts by 19 authors on events, exhibitions and individual practices, this anthology uncovers and examines the presence of sound and its listening spaces in contemporary Canadian art since the mid-eighties. A CD-Audio produced by Éditions Nicole Gingras accompanies the book.
ENG 02 / 2003
ISBN 2980501948
238 pages
Not in catalogue
This item is not available through our web site. We have catalogued it for information purposes only.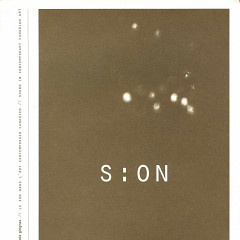 S:on
Sound in Contemporary Canadian Art
Nicole Gingras, ed.
Blog
Frottements, an exhibiton dedicated to the exploration of sounding objects and surfaces, is shown at the Musée national des beaux-arts du Québec (Québec City) September 1 to Novembre 28, 2004. The exhibition's curator, Nicole Gingras — who…