There are many ways to define the silhouette of an object. Drawing a hand, for instance, can be achieved by tracing the outline of a hand, or drawing a surface corresponding to its shape, or even by drawing the background and leaving empty the form of a hand. Each of these approaches will allow one to see the hand. What is the equivalent in terms of sound? What is the silhouete of an audio object? This is the question Laetitia Sonami and Jocelyn Robert tried to answer with Le Crachecophage. Laetitia Sonami is well known for her work with adata glove that she uses to tell in sounds stories and tales. Jocelyn Robert published numerous works in which he uses iconoclast strategies to produce singular pieces, like Le piano flou or 20 moments blancs lents. For Le Crachecophage, the artists decided to work from an audio object - they chose a video (!) - and tried to create an outline for it, they tried to discover its silhouette, to draw a negative or a context for it. Of course, the project is hopeless form the start but still, they managed to create Le Crachecophage in the process, an audio contemporary fable. This work has been commissionned by Radio-Canada, for the radio program L'Espace du Son.
AVTR 012 / 1999
UPC/EAN 771028211227
Total duration

:

37:38
Not in catalogue
This item is not available through our web site. We have catalogued it for information purposes only. You might find more details about this item on the OHM / Avatar website.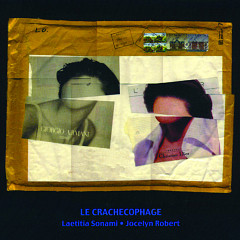 Le crachecophage