It's highly evocative music, the kind you can float away in if you're in the right mood. — Coda Magazine, Canada
Berthiaume et ses interlocuteurs, qui n'ont visiblement pas froid aux yeux, signent ici un disque audacieux, exigeant, qui nous oblige à revoir nos idées sur la musique improvisée. — Radio-Canada: Guide culturel, Québec
Guitarist, composer and improviser on the modern jazz scene, Antoine Berthiaume was born in Montréal in 1977. Berthiaume has studied with a vast array of teachers: at home with Neil Smolar and Benoît Charest, in Toronto with Lorne Lofsky and in New York with Mordy Ferber, saxophonist Dave Binney and pianist Charlie Banacos. He is pursuing a Masters degree in contemporary composition at the Université de Montréal, under the supervision of Denis Gougeon.
On his first disc, "Soshin," on Ambiances Magnétiques, Antoine Berthiaume's duos with Fred Frith and Derek Bailey continue his exploration of the full range of improvisation and the thousand-and-one facets of the guitar. A first meeting with Bailey, in London in February 2001, opened the doors to a new conception of improvisation and allowed him to discover a musical scene that was incredibly diverse and open. During a second trip to London, in August 2001, he recorded with Bailey and appeared in a solo performance at an Instant Music Meeting show organised by Paul Hood through the London Musicians' Collective. Eight months later, Bailey and Berthiaume would release their session concurrently: part of it on Bailey's compilation, "Visitors Book," (on Incus, a label Bailey and Evan Parker founded in 1970), and part on "Soshin" (on the Ambiances Magnétiques label). Then it was back to Montréal, where a visit by Frith was the occasion for a recording session with Bernard Grenon at Studio 270.
By turns bruitiste and traditional, Soshin is a meeting of the masters, a pilgrimage to the abode of the reinventors of improvisation in which Berthiaume is imbued with the presence of two great guitarists.
AM 113 / 2003
UPC/EAN 771028111329
Total duration

:

58:23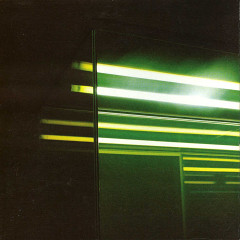 Soshin
Notices
All the tracks are improvised duo sessions resulting from a first encounter with Bailey and Frith, with the exception of Soshin, composed by Antoine Berthiaume with the help of Denis Gougeon.
In the press
Mike Chamberlain,

Hour

, January 11, 2007

Lech Borowiec,

Diapazon

, October 9, 2006

Nate Dorward, Coda Magazine, no. 316, July 1, 2004

It's highly evocative music, the kind you can float away in if you're in the right mood.

Stanley Péan,

Radio-Canada

:

Guide culturel

, May 1, 2004

Berthiaume

et ses interlocuteurs, qui n'ont visiblement pas froid aux yeux, signent ici un disque audacieux, exigeant, qui nous oblige à revoir nos idées sur la musique improvisée.

Good stuff.

Radio Ciutat Vella

:

La Rebelión de los Antioxidantes

, February 1, 2004

… ouvert et curieux.

Luc Bouquet, ImproJazz, no. 99, October 1, 2003

… saluons comme il se doit la découverte d'un musicien à l'univers ouvert et passionnant.

Highly recommended.

Bad Alchemy, no. 42, September 1, 2003

Berthiaume scrapes, slides and slips in with beautiful and drifting guitar work, using every inch of his instrument to create evocative sound.

Jennifer Kelly, Splendid E-Zine, August 12, 2003

… believe me, it's worth it.

Réjean Beaucage, Voir, August 7, 2003

Soshin

, provient d'un proverbe japonais

:

Soshin o wasureru bekarazu

ou, si vous préférez

:

«

Dans votre pratique, n'oubliez jamais l'esprit et l'humilité du débutant.

»

François Couture, Ici Montréal, June 12, 2003

Pour une première carte de visite, c'est réussi.

François Couture,

AllMusic

, June 2, 2003

But if you are lured to Soshin by either of its big names, you might be surprised to find out that, in the end, the star player is not who you thought.

Tom Schulte, Outsight, June 1, 2003

… duets with masters of the experimental guitar…

Anne-Marie Campbell, Voo, May 24, 2003

Soshin… se veut une exploration des possibilités infinies de la guitare.
Blog
Derek Bailey died on December 25, 2005 in London (UK) at the age of 75. Founder of the Incus record label, {nbio:bailey_de} helped shape improvised music with his idiosyncratic guitar playing and his passionate defense of free im…