… la musique de Brady n'oublie jamais qu'elle est porteuse d'une vraie charge émotionnelle. — ImproJazz, France
… sinuous, rapid-flowing melodic lines, syncopated yet utterly fluid, given precise unison voice by the participating musicians in what can only be described as a form of ritual… — Musicworks, Canada
Unison Rituals is Tim Brady's second release on Ambiances Magnétiques, and features five highly original chamber works for saxophone and ensemble which point to the increasing trend among new music ensembles to play music coming from a wide range of performance traditions, bridging the gap between musique actuelle and contemporary chamber works. Though Brady is perhaps best known for his virtuoso solo guitar works, as documented on the 2002 Ambiance magnétique release Twenty Quartet Inch Jacks (Am 107), he is also a chamber and orchestral composer of great imagaination and these five compostions show the scope of his musical vision.
The title track is a powerful work for saxophone quartet. Brady's at times obsessive use of unison melodic material (Unison Rituals) is a central element of this work, given a stunning performance by the Quasar saxophone quartet. The work is also unique in that the quartet actually plays a total of six saxophones during the course of the composition. The opening of the piece uses 2 tenor saxophones, plus alto and baritone, the central section uses the traditional soprano, alto, tenor and baritone, and the ending explores the colour of 2 soprano saxophones playing in unison against the deeper resonances the of alto and baritone.
The next three performance are by Bradyworks, the composer's own chamber ensemble. Double Helix is a quartet for saxophone (soprano, alto and baritone), combined with piano, percussion and cello and features complex ensemble playing and interlocking rhythmic counterpoint. Two Chords Less Than a Blues features solos for each of the performers on tenor saxophone, piano and percussion. The work's title refers to the fact that the piece explores two very simple harmonic ideas - a 4-note cluster and the Cminor7 chord - spinning out elaborte textural and melodic ideas from two very primary musical ideas.
Escapement is a quartet with Brady playing scordatura guitar. For this composition, the guitar is tuned to a differnet set of notes than usual, giving the work a distinctive harmonic colour. The final work on the CD is Sound Off, Brady's 1983 outdoor performance piece for 100 wind instruments and 8 bass drums, done here in a studio version, using multi-track overdubbing to create an ensemble of 45 winds and 3 bass drums. The work moves from complex textures to simple unison drones to jazz-influenced ensemble counterpoint, creating a striking 12 and a half minute CD-version of Brady's original 45-minute outdoor extravaganza.
AM 110 / 2003
UPC/EAN 771028111022
Total duration

:

64:04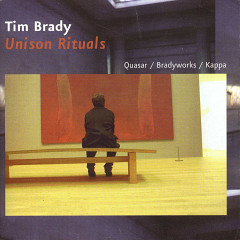 Unison Rituals
Notices
Tim Brady is, in part, a happy accident of geography. There he is up in Montréal, looking down at New York. Why he's not facing Paris like most other Montréal composers, I can't tell you, but there he is. He sort of orbits the scene, making contact but keeping his distance. He's a rare Canadian member of a mostly-American movement some call totalism, which basically means that when minimalism appeared in the 1970s he thought it was a really good starting point but too simplistic. And so minimalism could be called perhaps the canvas over which his music is painted. Tonality is usually in the background, and a consistent texture, and repeated figures that allow the music to cycle in place at times. But since he's a totalist, the rhythms are much more complex than in minimalism, the harmony takes strange turns, and the form tends to dart off at right angles.
If Brady were only a distant adherent of a New York movement, the matter would be simple. But there's also something European and maybe even French about his technique, a sensitivity to timbre, fluidity of line, and intricacy of form missing from minimalist-influenced American music. Then too, Brady plays a lot as a solo guitarist with electronics, which is a very New York way to manage your career. But he's also an excellent and prolific composer of chamber music. His chamber music has the concern for ensemble virtuosity (as opposed to soloistic) so beloved by the totalists — both the title and technique of the saxophone quartet Unison Rituals attest to that. But at the same time, his music has a European-style range, a kind of detailed expressiveness, not found in the music of Downtown Manhattan.
Unlike a lot of recent American music, no Brady piece ever remains what it seems to be in its opening measures. Unison Rituals itself starts out with the kind of fast unison playing inspired in younger composers by minimalist ensemble technique, but its initial energy unexpectedly gives way to something much more thoughtful, culminating in rhytmicized textures that are entirely Brady's own. Double Helix opens with a deluge of classically postminimalist melody, jazzily syncopated with split-second hocketing effects among the instruments; who would dream that it would lead to an expressive saxophone solo over a series of threatening timpani rolls? Two Chords Less than a Blues (a blues only contains three chords) goes the opposite direction: from hesitant textures and even noise into a rollicking chorus requiring superb ensemble coordination. Escapement makes rare use of Brady's own mercurial guitar technique in an ensemble context, eventually blending it into a lovely and intricate ensemble fusion. Finally, Sound Off starts from unison brass, ends up dramatically in major-triad triumph, but in between makes a dissonantly deep-set curve that no American piece would have ever attempted.
Which may all be a way of saying that while geography may have made a Tim Brady possible, it can't entirely account for him. Beyond the influences he shares with his generation, Brady has a tremendous musical energy that pours out in a diversity of forms. His music is complex, but focused; there may be a lot going on, but you're never left wondering where the main line is, nor in doubt about how the music is evolving. Whether he's using electronic boxes to turn his hundreds of plucked notes into thousands, or spinning through unison rhythms with a top-notch ensemble, his music surges ahead in a convincingly organic manner, now pausing thoughtfully in a minimalist stasis, then breaking out into the diversity of timbres and textures that serialism made possible. Amid the stylistic pressures and possibilities of the late 20th century, between America and Europe, Tim Brady has not just picked and chosen, but found his own musical center.
Kyle Gann, New York City (New York, USA) [iii-03]
Blog
It is the time of the Year where award nominations are revealed and DAME musicians are harvesting plenty. Pierre Cartier («Dis, Blaise…»), Tim Brady (Unison Rituals), the {nbio:frith_fr}, {nbio:derome_je}, {nbio:tanguay_p…

Unison Rituals gathers five highly original chamber works for saxophone and ensemble, bridging the gap between musique actuelle and contemporary chamber works. Second release by Tim Brady on the Ambiances Magnétiques, this time featuri…