Robert Marcel Lepage possesses some killer rock chops. — Splendid E-Zine, USA
One must point out that, although released by Ambiances Magnétiques, an experimental music label, this album remains very easy to listen to. — AllMusic, USA
Eclectic, versatile and never shy when it comes to rock, Robert Marcel Lepage has created more than an hundred film scores. Here's a stunning exploration of a trash rock group on the slide.
AM 087 / 2000
UPC/EAN 771028108725
Total duration

:

36:57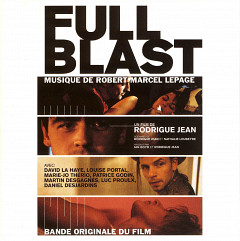 Full Blast
[Original music for the film by Rodrigue Jean]
In the press
Henryk Palczewski, Informator "Ars" 2, no. 30, May 1, 2001

Bernard Lamarche, Le Devoir, December 30, 2000

George Zahora, Splendid E-Zine, December 11, 2000

Robert Marcel Lepage possesses some killer rock chops.

Dominique Nadeau, SOCAN, Paroles & Musique, no. 7:6, December 1, 2000

François Couture, AllMusic, October 1, 2000

One must point out that, although released by Ambiances Magnétiques, an experimental music label, this album remains very easy to listen to.
More texts
Euro-Rock Press no. 12