Composer(s): Bruire, Michel F Côté, Jean Derome et les Dangereux Zhoms, André Duchesne, Évidence, Les Granules, Joane Hétu, Justine, Diane Labrosse, Robert Marcel Lepage, Geneviève Letarte, René Lussier, Zeena Parkins, Danielle Palardy Roger, Jerry Snell, Tenko, Martin Tétreault
Graphic design: Fabrizio Gilardino, Anna Morelli
La Bastringue Migratoire came at the right time, summarizing the label's pre-1996 sound. […] the "musique actuelle" neophyte will find it a helpful sampler. — AllMusic, USA
I strongly recommend La bastringue migratoire. — Splendid E-Zine, USA
La Bastringue migratoire is a compilation of sixteen pieces from the independant label Ambiances Magnétiques, featuring, amongst other luminaries, the usual crew of René Lussier, Jean Derome, Michel F Côté, Robert Marcel Lepage, André Duchesne, Joane Hétu, Diane Labrosse and Danielle Palardy Roger.
Sixty minutes of music, a guided tour of what Québec's musique actuelle has been in the last twelve years. A mozaic of textures, a sound odyssey folding into an irresistible voyage. You would like to know more, you are curious, you've never heard of it, you love it passionately, you are looking for something new, La Bastringue migratoire is what you need. Plus you will get the 1996 catalog of DAME: 28 pages of texts, photos and illustrations.
AM 039 / 1996
UPC/EAN 771028103928
Total duration

:

63:47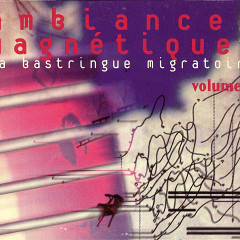 volume 1
:

La bastringue migratoire

Various artists
In the press
Anatoly Motkin, Vesty, April 4, 2001

Geert De Decker, Sztuka Fabryka, December 1, 2000

François Couture, AllMusic, October 1, 2000

La Bastringue Migratoire came at the right time, summarizing the label's pre-1996 sound. […] the "musique actuelle" neophyte will find it a helpful sampler.

I strongly recommend La bastringue migratoire.

Alexandre Pierrepont, Jazz Magazine, no. 475, November 1, 1997

Vittore Baroni, Rumore, no. 69, January 1, 1997

SOCAN, Paroles & Musique, no. 3:8, September 1, 1996

Alors, si votre énergie compositrice puise ses forces dans la musique actuelle et de recherche, ou si vos oreilles rêvent d'expériences et de découvertes extra-radiophoniques, vous êtes mûrs pour faire la rencontre de ces inclassables de la musique.

La Tribune, no. 23, August 3, 1996

La bastringue migratoire permet de découvrir une musique riche, éclectique, intelligente et absolument non commerciale

!

Nicolas Tittley, Voir, July 11, 1996

Mario Cloutier, Le Devoir, June 15, 1996

On représente une force incontournable.
More texts
emoRAGEi no. 4, Border Zone Zero, Le Musicien québécois no. 8:5