… the group gives highly personal renditions of Monk tunes, illustrating why jazz innovators quickly hailed him as major figure. — AllMusic, USA
L'impression d'aisance, de facilité, de plaisir qui s'en dégage est d'ores et déjà une leçon en soi. — Club-culture, Québec
Évidence is a tribute to the music of Thelonious Monk, pianist and composer, pioneer of bebop, who influenced modern jazz a great deal. Évidence sets itself in continuity of an always increasing interest for compositions from this great musician.
Founded in Montréal in 1985, the group Évidence is comprised of musicians Pierre Cartier (Ensemble Pierre Cartier, Chansons de Douve), Jean Derome (Les Granules, Jean Derome et les Dangereux Zhoms), and Pierre Tanguay (Noma, Icarus, l'Ensemble Steve Watson). These musicians, better known in "musique actuelle" circles, do indeed demonstrate on this record, their intimacy with the jazz tradition.
Évidence's repertoire includes nearly sixty pieces, accumulated progressively through the years. Some are well-known, others not much. All are revealing of Monk's conceptual harshness and peculiar humour. This first album, produced by the authors on independant label Ambiances Magnétiques present ten works including Ugly Beauty and 'Round Midnight.
AM 028 / 1993
UPC/EAN 771028102822
Total duration

:

65:35
AM 028_NUM / 1993
UPC/EAN 771028102884
Total duration

:

65:35
Not in catalogue
This item is not available through our web site. We have catalogued it for information purposes only.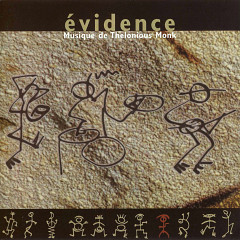 Musique de Thelonious Monk
Available via Bandcamp

Not in catalogue
In the press
François Couture, AllMusic, June 1, 2002

… the group gives highly personal renditions of

Monk

tunes, illustrating why jazz innovators quickly hailed him as major figure.

Francine Charrette, Club-culture, January 1, 2001

L'impression d'aisance, de facilité, de plaisir qui s'en dégage est d'ores et déjà une leçon en soi.

Manon Guilbert, Le Journal de Montréal, November 15, 1993

François Couture, AllMusic, October 26, 1992

Kevin Whitehead, Extra, January 1, 1992

Évidence knows all you ned to know to play Monk right […] They're the best Monk covers I've heard lately.
Blog
Disc Musique de Thelonious Monk by Évidence, released in 1993, is 25% off to celebrate 25 years of new music at DAME (until the end of February). "L'impression d'aisance, de facilité, de plaisir qui s'en dégage est d'ores et déjà une leçon en soi.…