Une grande réussite. — Big Bang, Canada
… his work is a unique blend of rock, psychedelic, and contemporary music, plus a lot of imagination… — Montreal Mirror, Québec
Locomotive is a group directed by composer/guitarist André Duchesne sided here by guitarists Claude Fradette, Francis Grandmont and drummer Rémi Leclerc. Locomotive transgresses the sound of the now defunct group Les 4 Guitaristes de l'Apocalypso Bar.
Tightly knit together, these eighteen strings cut a fine figure and give it all they have. Each guitar has its own tone and the percussion is never short of effects, off-beat rhythms and punch. A dynamic quartet which plays an intelligent rock and knows how to temper its ardours. An authentic, explosive music machine, energetic and extra-sensorial.
Locomotive is an album on which the melodic rails, sustained by Duchesne's fantastic tales, become entangled to syncopated rhythms and the freedom of improvisation.
Locomotive, a nice way to go off-track!
AM 027_NUM / 1993
UPC/EAN 771028102785
Total duration

:

58:01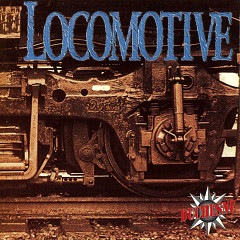 Locomotive
In the press
Michael Draine, e/i magazine, April 1, 1995

Annie Landreville, Big Bang, March 1, 1994

Une grande réussite.

Martin Siberok, Montreal Mirror, June 6, 1991

… his work is a unique blend of rock, psychedelic, and contemporary music, plus a lot of imagination…

Alain Brunet, La Presse, December 9, 1990

Au coeur de l'imaginaire d'André Duchesne.